The Learning Cooperatives' annual Celebration of Self-Directed Learning will be recognizing the amazing work of Priya Vulchi and Winona Guo who co-founded CHOOSE while still in high school, an organization dedicated to providing the tools to discuss race and work toward systemic change.  Priya and Winona are also former Not in Our Town board members.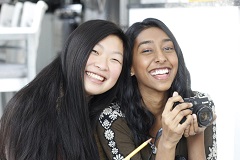 Their latest publication—a racial literacy textbook and toolkit for K-12 educators called The Classroom Index—has been recognized and funded by Princeton University, featured in Teen Vogue, and called a "social innovation more necessary than the iPhone" by Princeton Professor Ruha Benjamin. It's currently being used by educators in over 30 states nationwide. Since their publication, the two have been traveling to all 50 states collecting hundreds of powerful stories about race, culture, and intersectionality for another book to be released in late fall 2018.
The event will take place on Saturday, May 5, 2018 from 2:00 PM to 4:00 PM, at Johnson Education Center, One Preservation Place, Princeton, NJ.  Click here to register.