Freedom Seeker, Colonizer and Enslaved: Immigration and Migration in NJ
November 4, 2022 @ 9:00 am

-

5:00 pm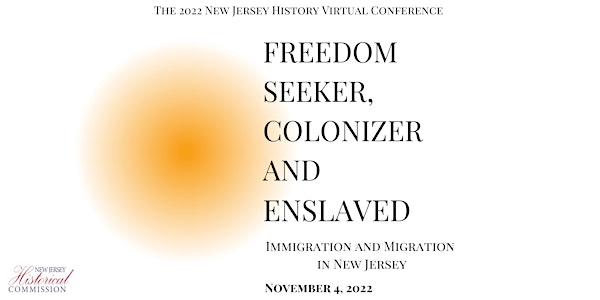 The New Jersey History Conference is an annual program that highlights the importance of studying and sharing state and local history and invites established and emerging scholars, educators, public historians, and a broad spectrum of social science and humanities researchers to present new research that facilitates greater public awareness of New Jersey history.
The 2022 New Jersey History Conference will address the history of different forms of movement within, to, or from the state. We will ask how interpretations of stories can help illuminate our understanding of the present. The conference will explore the history, cultural heritage, and contemporary issues facing immigrant communities through the lens of New Jersey studies.
A note for teachers: The New Jersey Historical Commission will offer professional development certificates for attending the conference (9 PD hours for both days). Please email Noelle Lorraine Williams at Noelle.Williams@sos.nj.gov to request a certificate following the event.
For more information and updates, please visit history.nj.gov and follow the NJHC on Twitter @OfficialNJHC, on Instagram @newjersyhistory, and on Facebook @NewJerseyHistoricalCommission. Sign up for the NJHC's monthly newsletter to learn about upcoming programs and projects.
For tickets, click here.
General Admission:$20.00+$2.85

Special Admission (Students): Free.  Please email a copy of your student identification Noelle.Williams@sos.nj.gov to validate registration.